At Hayward Health Services, our goal is to create an environment that affords our residents the opportunity to be a partner in the care they receive, to develop trusting relationships with our caregivers, and to reach their highest level of independence. We are passionate about making our center The Right Choice for you or your loved one.
We have a strong partnership with Hayward Area Memorial Hospital. We are proud to be members of the Hayward Chamber of Commerce, Sawyer County Dementia Care Giver Network, and Memory Café.
In 2019 we were awarded a 2019 Bronze – Commitment to Quality Award by the American Health Care Association and National Center for Assisted Living (AHCA/NCAL). This award recognizes our commitment to the pursuit of quality and our focus on developing systems and protocols that meet our residents' needs and provide consistent quality care.
Contact us to schedule your tour and learn why we are The Right Choice for you.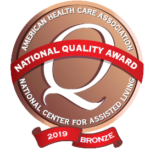 2021 Resident Survey - Overall Quality of Services
In house Lab testing capabilities
In house X-rays
Bladder Ultrasound
Swallow Studies
Psychiatric in house consultations*
Cardiology in house consultations*
Licensed Social Worker
Occupational Therapy
Physical Therapy
Respiratory Therapy
Speech Therapy
Daily Weights**
Glucose monitoring**
Nebulizer Treatments**
Incentive spirometry**
Wound Care
IV Fluids (initiation and maintenance)
IV Antibiotics
PICC Management
Isolation for infection control
Tracheostomy Management
Dialysis/Transportation
Automatic Defibrillator
Full Pharmacy Services
Emergency Kit
Comprehensive Dining
Activity Services
Discharge Planning
*some in house services may be telehealth services
**services must be supported by physician orders 
We know determining proper insurance coverage can be a burden. Our team is here to speak with you about any questions you or your loved one may have as you continue the healthcare journey.
Aetna
Anthem
Arise Health Plan
Childrens Community Health Plan
Cigna of Wisconsin
Common Ground Health Care
Community Care, Inc.
Corvel Corporation
Exceedent
Group Health of Eau Claire
Health Partners Inc / Robin Health
Health Payment Systems
Health Tradition
Humana
iCare
Managed Health Services
Medica
Molina WI
Network Health Plan
Security Health Plan
The Alliance
TriCare
Trilogy
ucare Minnesota
United Healthcare
WEA Trust
WPS
VA
Our center may be able to accept additional insurance providers. Call (414) 248-2541 to speak with a member of our team to confirm your coverage.


We are committed to customer and employee satisfaction.
Caring Connections is how our residents, their loved ones, and our staff can tell us about their experience. Share a concern you may have or give a staff member kudos of the care they give.
Call, email or log in anytime. Our helpline is answered 24 hours a day, 365 days a year.
Phone: 833-480-0050 (si habla espanol, marque 800-216-1288)
Email: caringconnections@nshorehc.com
Join our team and receive FREE training and testing to be a CNA through the WisCaregiver Careers program while you work.
It's the start to a great career in making a difference every day.
To get started, browse our currently available nurse aide trainee opportunities.
If our center does not currently have an opportunity listed please contact Recruitment@nshorehc.com for further assistance.
Start Making a Difference Today
Trust, engagement, competence, respect, and passion – these are the values under which we operate every day. Our dedicated team of professionals strives to deliver quality care to our residents and their families and we are seeking exceptional individuals to join our team. If you value being a leader, working in a progressive environment, and having opportunities to grow in your career, our center is The Right Choice for you. We offer a benefits package designed to meet the diverse needs of our employees. Click Find Your Career to view our job openings at this center or others in the North Shore Healthcare family.
"*" indicates required fields